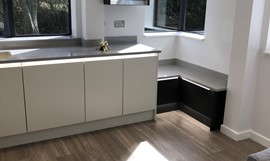 Kitchen Testimonials
Fleet- This is the second kitchen in the house we have produced for them! The client couldn't believe how at home she feels in her new surroundings! Superb!  
Four Marks- This small one bedroom apartment was transformed by intricate design which shows off every inch of storage. 
Windlesham-  A touch of contemporary bringing a quaint cottage into the 21st Century. A cup of tea is an excuse to simply step into the room!
Frimley Green- These three colours are merged together succesfully in a kitchen then thats always a good cause to celebrate! 
A mixture of Oak and Satin lacqured painted doors embracing island cooking yet surrounded by storage! We love it! 
Frimley - Our customer had complete faith in us and was utterly amazed at the final result! "I couldn't recommened them highly enough!"
Bathroom Testimonials
Fleet - This stunning cloakroom is full of character and style, Another success!